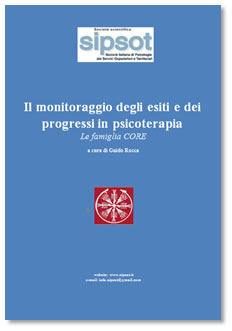 Il monitoraggio degli esiti e dei progressi in psicoterapia. La famiglia CORE.
A cura di Guido Rocca - SIPSOT, Settembre 2019

Viene presentata la traduzione di un importante Report dell'Associazione degli Psicologi del Canada. Una task force di tale associazione (coordinata da Giorgio Tasca, Psicologo Clinico, Professore presso l'Università di Ottawa e uno dei massimi esperti internazionali di ROM e di ricerca basata sulla pratica) si è occupata di descrivere lo stato dell'arte delle ricerche sull'uso della valutazione dell'esito e del monitoraggio dei progressi della psicoterapia. Particolarmente importante la sottolineatura sulle implicazioni deontologiche del mancato utilizzo di tale prassi nella routine clinica. Il volume contiene inoltre la traduzione italiana dei manuali e del questionario CORE-10 (versione breve del CORE-OM) e del manuale e form dello YP-CORE (Young Person CORE, per adolescenti). Sono inoltre presenti i questionari del CORE-5 (versione apposita per il monitoraggio seduta per seduta del trattamento), del CORE- GP (per screening nella popolazione generale) e CORE SFA e SFB (per l'uso nell'ambito della ricerca).
Copia gratuita per gli iscritti SIPSOT in regola con il pagamento delle quote associative (quota annuale di iscrizione 30 euro)
Per informazioni: info.sipsot@gmail.com
_________________
Monitoring of outcomes and progress in psychotherapy. The CORE family.
By Guido Rocca - SIPSOT, September 2019

The translation of an important Report by the Association of Psychologists of Canada is presented. A task force of this association (coordinated by Giorgio Tasca, Clinical Psychologist, Professor at the University of Ottawa and one of the leading international experts in ROM and research based on practice) has been involved in describing the state of the art of research on use of outcome evaluation and monitoring of psychotherapy progress. Particularly important is the emphasis on the deontological implications of the failure to use this practice in clinical routine. The volume also contains the Italian translation of the CORE-10 manuals and questionnaire (short version of the CORE-OM) and of the manual and form of the YP-CORE (Young Person CORE, for adolescents). There are also the questionnaires of CORE-5 (special version for the monitoring session for treatment session), of CORE-GP (for screening in the general population) and CORE SFA and SFB (for use in research).
To request a copy of the book, write to: info.sipsot@gmail.com